We just delivered this gorgeous engagement ring and matching wedding band to a very special couple. They came to us with an existing ring that had a center marquise diamond set traditionally with the points perpendicular to the finger. We created an entirely new engagement ring and wedding band. To start, we set the marquise sideways, also known as "East-West", added micro-prong set diamonds in a halo around the marquise and added more micro-prong set diamonds down each side of the ring. Then, we created the new wedding band to match. Both rings have beautifully raised beaded edges. She...
---
Featured on KPBS.org as 'Best in Local Jewelry' by Meredith Hattam.
---
Thanks San Diego Community Newsgroup for the coverage! Click here to read the article
---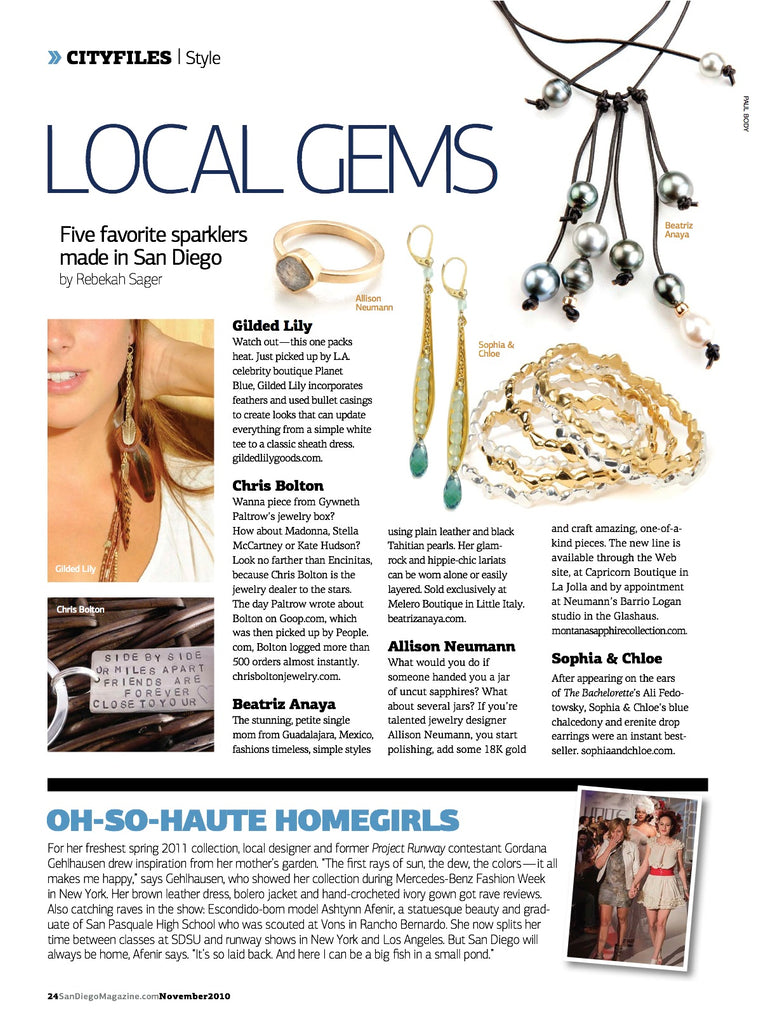 A nod for the collection in the Style Section of San Diego Magazine's November 2010 issue!  The publication featured "Made in San Diego" companies along with a local gift buying guide.
---
From: Exquisite Wedding Magazine's online blog at www.thebridesuite.com - October 15, 2010 Fabulous Find: The Gift of a Sapphire Did you know that sapphires have often been chosen for engagement rings? The gift of a sapphire has been often thought to symbolize a pledge of trust and loyalty. We love to find talented local designers. San Diego jewelry designer Allison Neumann shared with us her unique jewelry and we thought we should share it with you! Allison uses a Montana sapphire in every piece. Her jewelry is a great gift for a bride-to-be or bridesmaid. She also designs men's rings,...